Riparian Areas and Wetlands
Riparian areas in the urbanized sections of Cherry Creek's mainstem and some of its tributaries have improved over the past several years, the result of collaborative efforts by CCBWQA, CCBWQA's member Entities, Mile High Flood District, and others.
Stream reclamation projects that re-integrate the stream channel and floodplain assist storm flows to spill out of the channel onto the riparian and floodplain area and increases filtration/infiltration in the overflow banks. Revegetation along the corridor with wetland plants, grasses, shrubs, and trees provides an aesthetic buffer and promotes enhanced riparian habitat. All of this creates a healthier stream, and reduces nutrients entering Cherry Creek Reservoir.
Targeted stream reclamation projects also benefit stream sections above the project area. CCBWQA Member Entities actively protect and enhance riparian and wetlands through their land use codes.

A field assessment is conducted to identify degraded riparian habitat
Construction underway to repair a degraded habitat
Restoration is helped along by a local beaver
Completed restoration projects attract both local human and beaver traffic
Stream Preservation Areas Defined in Regulation 72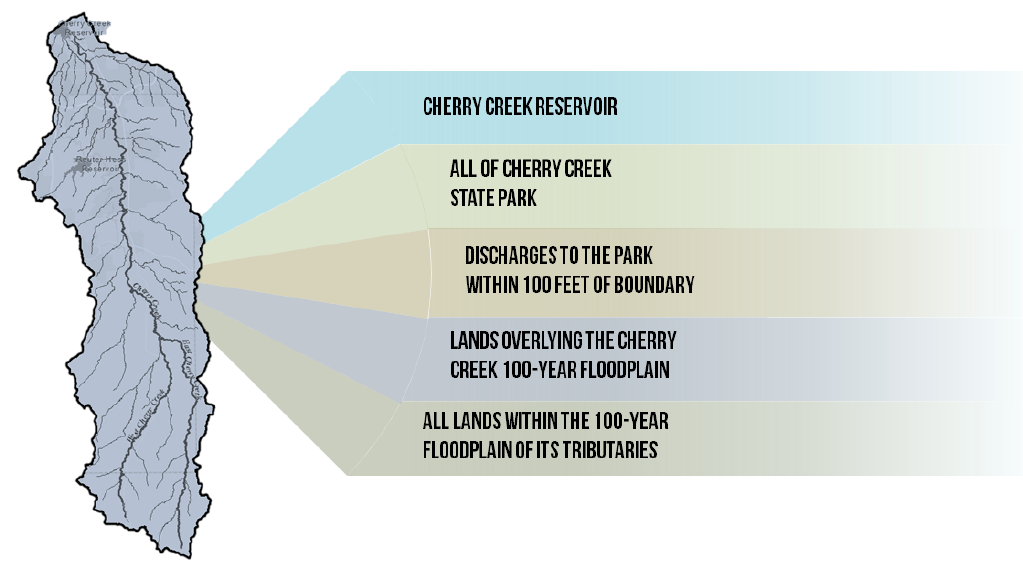 Benefits to a Healthy Riparian Vegetation Area
A healthy riparian vegetation area:
check_box Reduces stream bank erosion, which maintains stable stream channel geomorphology and reduces velocity of flow;
check_box Provides support of sediment deposition on floodplains during periods of overbank flow, which removes total suspended sediments and attached phosphorus that can degrade water quality;
check_box Provides shade, which works to lower water temperatures (lower water temperatures support higher dissolved oxygen levels which are important to maintain fisheries); and
check_box Removes phosphorus, nitrogen, and sediment from surface runoff (through plant uptake and filtering and biogeochemical interactions between surface and ground water).